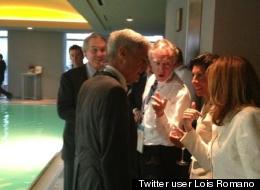 Robert Rubin, Former Treasury Secretary, Falls Into Swimming Pool At DNC Party
CHARLOTTE, N.C. -- Bob Rubin, the Treasury secretary during Bill Clinton's presidency, tumbled into a Ritz-Carlton hotel pool Wednesday around 8 p.m. The pool was next to a happy hour party that began 90 minutes earlier and was attended by top White House officials and Wall Street big-wigs.
Rubin, fished out by fellow guests, was said to be in good spirits by a person familiar with the tumble. The pool is on the 18th floor of the hotel.
Millions of mortgage holders who saw property values plummet when the housing bubble burst have got to be hoping there's video.